PRESS RELEASE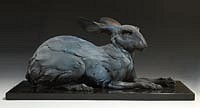 May 11, 2007 - June 2, 2007
Participating Artists:
-Matt Allison –Wally Bivins -Beth Cavener Stichter –Damian Grava -Glenn Grishkoff –Chris Kelsey -Dong Wan Kim -Nana Kuo -Ryan Mitchell -Richard Notkin -Joe Pintz –Susan Rooke –Steve Sauer –Donna Tousley -Jeff Tousley
The Art Spirit Gallery will exhibit it's Eighth Annual Clay Invitational show with a wide variety of high caliber ceramic work by 15 artists. These artists are invited based on recommendations from clay artists that we have shown in the past as well as a careful review of artists that have approached our gallery with a desire to show their work in the invitational show. The opening reception will be Friday, May 11 from 5-8:00 in conjunction with the 2nd Friday Downtown Art Walk.