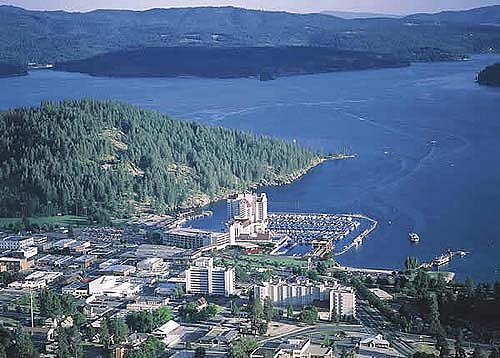 About the Gallery
CLICK HERE FOR A VIRTUAL TOUR OF THE GALLERY.
The gallery opened in 1997 and is located in Downtown Coeur d'Alene nestled on the northern shore of beautiful Lake Coeur d'Alene. With 2500 sq. ft. of premium exhibition space and 1500 of basement inventory space, you can find a wide array of high-quality original artwork featuring top regional artists. Everyone is welcome!

Each month, the gallery is hung with a new show of original work, creating a changing and vibrant art environment. Opening receptions are generally held on the second Friday of each month from April through December in conjunction with the Coeur d'Alene downtown Art Walks. The opening receptions are popular community events providing opportunities to view the art, meet the artists and socialize with friends and neighbors.

Coeur d'Alene, located in the forests of northern Idaho, is a resort community with dramatic natural beauty, abundant opportunities for outdoor and water recreation, and an active, cohesive arts community. All of this is available in the downtown area, which embraces the northern end of 25 mile-long Lake Coeur d'Alene.
Arts and Culture in Coeur d'Alene
Art Walks in downtown Coeur d'Alene are on the second Friday of each month, April through December, from 5-8 in the evening. These Art Walks coincide with the monthly opening receptions at The Art Spirit Gallery.

www.artsandculturecda.org
The Coeur d'Alene Arts and Culture Alliance is a non-profit alliance that brings together the multitude of diverse arts groups to coordinate their efforts in promoting local arts and culture. Art Walk, Music Walk, Riverstone Concert Series, Kids Draw Architecture, Music for the Wise and more are all brought to you by the alliance. Visit their website including the calendar of arts events, and please become a member.

www.artonthegreen.org
The Citizens' Council for the Arts is a non-profit organization whose mission is to support and promote the arts in the surrounding community. The CCA produces the highly successful Art on the Green art festival each August, and uses the proceeds to support art and art education in Coeur d'Alene and nearby communities. Its volunteers provide Art Shop, a week-long art camp that serves 600 children each summer, writers' workshops for both adults and children, two gallery exhibitions at North Idaho College and Harding Family Center Play Space.

www.gizmo-cda.org
Gizmo-cda, Coeur d'Alene's Makerspace, is a place where art, design, technology and tools are connected by the hands and minds of the people of this community. Mentors and members work side by side in discovering expanding possibilities. Courageous use of resources by all ages and skill levels creates a place where transformative learning takes place. Gizmo is guided by the curiosity and vitality of the makers of Coeur d'Alene. Tools you have always wanted are there to give birth to the ideas that you have always had! Think bold, be a part of Gizmo-cda, and become a gizmologist!

www.cdasummertheatre.com
The Coeur d'Alene Summer Theatre is Coeur d'Alene's highly acclaimed professional theatre. It specializes in productions of full-scale Broadway musicals during the months of July & August at the Kroc Center Theatre. They also host a slew of camps and classes throughout the year, as well as the newly-developed CST On the Road program which brings theatre into schools around this region!

www.themoderntheatre.org
The Modern Theatre provides year-round community theater and summer workshops. It is located at 1320 E. Garden Avenue in Coeur d'Alene and at 174 S. Howard St in Spokane.

www.operacda.org
Opera Coeur d'Alene is an organization devoted to bringing opera and the opera experience to our region. The group provides educational enrichment programs for students, opera appreciation classes for the general public, and scholarships for opera students. They provide free concerts, an annual opera cruise on the lake and their main fall performance.

www.cdasymphony.org
The Coeur d'Alene Symphony is composed of 60 to 70 musicians from the Coeur d'Alene area who provide concerts for the public in Boswell Hall, North Idaho College and chamber concerts in smaller venues.

www.spokanesymphony.org
The Spokane Symphony Orchestra is a 70-piece professional orchestra from Spokane, WA that performs two concerts a year for Coeur d'Alene audiences. These concerts are held in Boswell Hall, North Idaho College.

The Coeur d'Alene City Park Concert Series is held most Sunday afternoons in June through August. A different music type is showcased at each performance in the band shell at City Park. Concerts are family-oriented and free to the public.

The Downtown Coeur d'Alene Concert Series is held at Sherman Square Park, 314 Sherman Avenue, in Downtown Coeur d'Alene. Concerts are from 6-8:30pm on Tuesdays from June 13 through August 29. These concerts are also family-oriented and free to the public.

www.museumni.org
The Museum of North Idaho is located downtown at the edge of City Park. Its exhibits tell the story of Coeur d'Alene and the surrounding communities, a history of steamboats, trains, logging and mining. The museum boasts a spectacular collection of over 20,000 images, quite unusual for a small community, but the beauty of Coeur d'Alene has always been in the sights of photographers.

www.cdaid.org/109/committees/arts-commission
The Coeur d'Alene Arts Commission, created in 1982, administers a burgeoning public art program. In 1999 Coeur d'Alene was the first city in Idaho to enact a 1.3 Percent for Art Ordinance

www.sizzlencuisine.com
Idaho Cuisine & Entertainment is a magazine and website providing a great dining and entertainment guide for the area.

www.coeurdalene.org
Contact the Coeur d'Alene Visitors Bureau for detailed information about Coeur d'Alene and the surrounding region.
And if you're looking for exercise, there are two outstanding opportunities.

Tubbs Hill is 135 acres of urban wilderness area on a hill immediately adjacent to the Downtown. It offers several nature trails of varying difficulty, all with spectacular views of the lake and the City. This is a very special City treasure offering fresh pine-scented air, pocket beaches, wildflowers, uphill challenges and a relatively level perimeter trail. Bicycles are not allowed on Tubbs Hill.

North Idaho Centennial Trail, a multi-use recreational trail extends 24 miles from Higgins Point on the Lake through the Downtown to the Idaho-Washington border. The trail then continues to Spokane, WA, mostly along the Spokane River.