PRESS RELEASE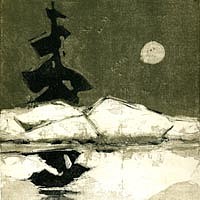 December 7, 2007 - December 31, 2007
H A P P Y H O L I D A Y S !
The Art Spirit Gallery is proud to complete 2007 with the 9th Annual Small Artworks Invitational featuring artwork smaller than 12 inches by 30 regional artists. There are 7 new artists that have not shown in our gallery before. This is a diverse selection of high-quality small work available for the holidays.
The opening reception will be Friday, December 7 from 5-8:00 in conjunction with the Downtown Art Walk. Come meet the artists and enjoy some holiday cheer. Everyone is welcome.
Artists:
-Steve Adams, Spokane, WA
-Chris Antemann, Joseph, OR
-Hazen Audel, Spokane
-Harold Balazs, Mead, WA
-George Carlson, Harrison, ID
-Morse Clary, Pasco, WA
-Allen Dodge, Coeur d'Alene, ID
-Mary Dee Dodge, Coeur d'Alene
-Don Ealy, Spirit Lake, ID
-Mary Farrell, Spokane
-Gina Freuen, Spokane
-Terry Gieber, Spokane
-Catherine Gill, Seattle, WA
-Elaine Green, Moscow, ID
-Robert Grimes, Spokane
-Stefan Grimes, Priest River, ID
-Dara Harvey, Spokane
-Michael Horswill, Hayden Lake, ID
-Miranda Howe, LH Project resident, Joseph
-Sally Machlis, Moscow
-Mel McCuddin, Spokane
-Teresa McHugh, Dalton Gardens, ID
-Ralph Mossman, Driggs, ID
-Katherine Nelson, Colbert, WA
-Laura Nuchols, Spokane
-Kyle Paliotto, Hayden, ID
-John Thamm, Spokane
-Gerard Tsutakawa, Seattle, WA
-Sister Paula Turnbull, Holy Names Convent, Spokane
-Bart Walker, Tetonia, ID