PRESS RELEASE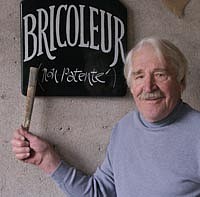 January 15, 2010 - February 27, 2010
The Art Spirit Gallery at 415 Sherman Avenue in downtown Coeur d'Alene is proud to announce a special show celebrating the artwork of a Pacific Northwest icon: Harold Balazs: My World of Differents—over 80 new works including large metal sculptures, large wood sculptures, enamels, drawings and mixed media works. The opening reception is on Friday, January 15 from 5-8. There will be no advance sales for this show. Sales will open at 5:00 for those in attendance. Internet and phone orders open at 5:30. Everyone is welcome.
Harold is 81 years young and still prolific! He has put an outstanding body of work together.
………………………………………………………………………………………………………………
This show is sponsored by JAVA on Sherman. We thank them for their support of the arts in our region.
………………………………………………………………………………………………………………
Winter/Spring Hours through May: Open Tuesday through Saturday 11-6.
………………………………………………………………………………………………………………
The Art Spirit Gallery has represented Harold Balazs for the past 12 years. This 1951 Washington State University graduate is best known for his public works throughout the Northwest. Harold crafts and sculpts in multimedia. His range of materials includes wood, metal, concrete, enamel, found objects and wrought iron. Locally his work can be seen in many popular spots including the large interactive fountain of stainless steel and basalt in Spokane's Riverfront Park as well as on North Idaho College campus in Coeur d'Alene. Harold's quick wit and craftsmanship grace the walls of many private residences across the United States and abroad.
Harold's mother fostered his interest in art by encouraging him to attend the symphony and visit museums. As a young man he received hands-on knowledge working with his father in his sheet metal and air conditioning business. This is where Harold developed his metal fabrication skills and began to comprehend complex shapes.
Throughout his career architectural communities have embraced his work, which led Harold to produce abstract altars, cement and brick planters, carved wooden doors and enamel on steel works--often incorporated in places of worship. His experience with public art led to a three term appointment as a Washington State Arts Commissioner during which time he helped draft Washington State's "percent for art" legislation.
The American Institute of Architects awarded Balazs a gold medal in architectural crafts in 1967. He received a Washington state Governor's Award in the Arts in 1988 and a lifetime achievement award from the Enamellist Society. In 2001, Balazs was profiled in the Living Treasures Project, a film series that documents the Northwest's important craftsmen and artists.
Balazs describes his life's work with these words: "I make stuff because it's better than not making stuff."