PRESS RELEASE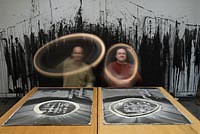 August 13, 2010 - September 4, 2010
The Art Spirit Gallery at 415 Sherman Avenue in downtown Coeur d'Alene will open Ian Boyden & Timothy C. Ely: Squaring the Circle on Friday, August 13 with a reception from 5-8 in conjunction with the Coeur d'Alene 2nd Friday Downtown ArtWalk. This show runs August 13 – September 4. Everyone is welcome!
20 collaborative works on paper and additional works created separately by each artist will be included. There will also be two unique manuscript books.
This show is sponsored by Northwest Specialty Hospital. We thank them for their support of the arts in our region.
……………………………………………………………………………………………………
EXHIBITION STATEMENT
The exhibition, Squaring the Circle, presents for the first time the remarkable collaborative paintings by Ian Boyden and Timothy C. Ely. Friends for over a decade, Ely and Boyden began to make collaborative paintings and books in 2005. As Boyden remarks, "Not long after I wrote the book about Tim, we began to collaborate through painting—as a form of conversation, as a way to access that which is hard to verbalize, as a way to pry open each other's heads to see what was inside." Over the years, their collaborations have opened many avenues of exploration including ink making, book making, Taoist talismans, alchemy, sacred geometry, and relationships between Zen and particle physics. The results are powerfully direct and mysterious paintings, the likes of which have not been seen before.
The works are calligraphic—appearing to pull in forms and techniques from both the European and East Asian traditions. Boyden, who has a degree in Asian Art History, spent over a decade studying and practicing Chinese calligraphy. Ely is well known for having created his own written meta- language, which he calls cribriform. One of their painting series, titled Alchemical Quills, meditates on the potential language stored in every writing utensil. In other pieces, we are presented with giant ensos, the archetypal Zen circle of ink meditation. These circles are inhabited and intersected by strange scripts, diagrams, and geometries. The list of pigments they have used for inks is poetry in and of itself: freshwater pearl, cinnabar, gold, lapis lazuli, cuttlefish ink, meteorite dust, and copious amounts of carbon. These paintings present a unique synthesis of vision, material, and technique.
Collaborative paintings are unusual in the contemporary art world, which is usually fascinated with the individual. In this context, the paintings by Boyden and Ely are all that much more intriguing. So unified are their respective contributions, that it is hard to determine who did what in each piece. However, below the surface of each painting, one senses a great reservoir of respect these two artists have for each other. What began as a gift each artist gave to the other, they are now in turn presenting to us.
SQUARING THE CIRCLE by Ian Boyden
Last year, I invited the artist Timothy C. Ely to my studio to make some collaborative paintings. Both of us were pleasantly surprised by the outcome. Not only did we have a great time working together, the resulting work was also extremely unusual and thought provoking. Conversations and ideas seemed to effortlessly abound. Over the next several months, he and I worked closely together to produce a large body of images. This exhibition presents a selection of those pieces. What follows are some of the events, conversations and ideas behind these paintings.
One Monday, Tim arrived at my studio with a great satchel. I asked him what it contained. He answered: "Oh, my favorite drafting tools, dividers, compasses, some of my favorite technical pens." Addressing the satchel, I asked it what dreams it had brought along inside of Tim. Tim pulled out a gleaming stylus. I asked Tim, if he ever felt like he was the pen's tool? What if the strange marks he loves to make are actually the language of the pen itself? Tim answered by pulling out a bottle of ink. In preparation for Tim's visit, I had been working on some images of feathers, archetypal images of writing. Following our conversation, I invited Tim to fill some of these feathers with his writing. We titled this series Alchemical Quills.
Tim and I share interests in many things, including Zen and particle physics. In one of our conversations (on October 5, 2009), I mentioned that I considered the Large Hadron Collider (the particle collider recently built near Geneva, Switzerland) to be the world's largest enso—the quintessential Zen circle. An enso is produced to reveal the mental state of its maker and to shed light on the fundamental nature of being; the particle collider was built to understand the most fundamental nature of elementary particles, quantum mechanics, and the deep structure of time and space. Both enso and particle collider are devises for measuring the Void and the underlying structures of emptiness. Tim and I mused about how great it would be to place one of our paintings in a super collider and then present it as a painting with invisible particles: a pigment list including upquarks and strange antiquarks, leptons and antileptons, microscopic black holes, as well as the ever-elusive Higgs boson. Alas, we did not have enough money to fly to Switzerland and, even if we had, the Large Hadron Collider was shut down because of some stray baguette crumbs. This left us with my studio and paper and brushes and other tools and images of particle tracks through bubble chambers. The link between Zen contemplation and images of elementary particles became the generative frame for a series of paintings that we titled Recapitulations of Emptiness.
One day, not long after we finished Recapitulations of Emptiness, I tried several brushes together and made giant ensos until the entire floor of my studio was completely covered in paper. I was exuberant; the ground was littered with percolations of the void. I called Tim, but then I realized that all I could tell him was that I had tied brushes together and had made a bunch of marks. After these marks dried, I selected about ten of my favorite ensos and sent them to him—one was not enough. Then, it was Tim's turn to be exuberant. We worked back and forth. When we were finished, we found that several of them were visual manifestations of the classic mathematical question of squaring the circle (this is a question of producing a square and a circle that have either the same area or the same circumference using only a protractor and straightedge).
To most questions there are processes by which one can arrive at an answer. Typically process is associated with the expectation of resolution. However, squaring the circle has no resolution. In fact, the search of its resolution is allied with the patient calculation of π, and the recognition of a class of numbers that are known as transcendental numbers. One of the reasons that Tim and I love to paint is that physical marks often shed light on the non- physical. These are processes that are specifically set up to shed light on the ineffable. The series Squaring the Circle provides a rather intriguing response to this ancient question.
-Ian Boyden
SQUARING THE CIRCLE by Timothy C. Ely
My collaborations with Ian Boyden seem to be the most natural of occurrences. I have collaborated before with other artists and often with success, but sometimes there is a forced sense with the collaboration as we are simply bringing a skill set to the project without really being in alignment. It has been a steep learning curve for me. Historically, as artists formed a base for individuality over say direction from the Church or Royalty, to work collaboratively has been regarded with suspicion.
Mr. Boyden and I share a surprising number of common fields of interest and as we converse and expand our knowing of each other, these overlaps often amaze and then divert us into new areas to examine. Where this amps into a new level our collaborative projects is that we engage in a conversation and then merge our various working methods into an aesthetic fusion. This fusion is intuitive, spontaneous and results in a material form, a painting or book at this stage, and we then notice this object being far more than the sum of its parts or the work of only two beings. I also take note of the fact that our wives and extended groups of friends and past collaborators impact our thinking so the group mind begins to patinate the work. We are the sum of all we have met. I love the ideas that come from a fertile conversation---always have, for when they reach conclusion or the car door slams, I am changed and inspired. In the collaborations the element of the unexpected carries a charge that cannot be rationalized or explained. Still we try. Ian works in a liquid dance of primary material. It resists reductionist analysis and criticism. It can only be observed and absorbed. Whether I begin a work or he does, what emergent forms that result defy our ability to project or predict an outcome.
There is also an equilibrium that I have discovered and a sense of surrender. As an individual and a humanoid, my inertial response is to be right all the time. So to surrender to the impulses of a joint project and to the ''art direction'' of someone else is a very dynamic way to allow for the novelty of process to occur. Our new work speaks more to me of playing music together for a common track of sound than for our visual personalities to overcome the other. In a working fusion two soloists can merge as one voice. This one voice or one vision is one goal we share. We know that our individual marking methods can be picked out of the paintings as you would pick out a disagreeable vegetable from a salad. What does happen so successfully is that Ian's methods can enhance a passage of mine and set up a dynamic or force of activity that take my mark and makes it ineffable and so new and unique to me. Things result that I could not draw. Dynamic equilibrium is a state of balance between continuing processes. I no longer regard process as having an end point but simply moving into a new stage of being with ongoing change. Once a painting is complete or finished in sense of classical physics or painting, things continue to occur. It moves across the country to a new museum, it gets dusty and exposed to the light from various sources. It may be stolen and worshipped as a diagram for the conversion of fate or it may be destroyed and be re-compounded into a new material in a land fill. Our role in the process of PROCESS is to be agents for this change and we seek to do it through awareness of place and time and local history and so Science adds ground to the central idea. We embrace the process in the vehicle we know best, which are the intuitive aesthetic philosophies of painting and bookmaking. We seek to fuse our hemispheric brains and to fuse our ability to effect change on the inky surface of a cellulose matrix.
-Timothy C. Ely
Ian! I hope this makes some sense. It will need editing and maybe shortening [or
butter]