PRESS RELEASE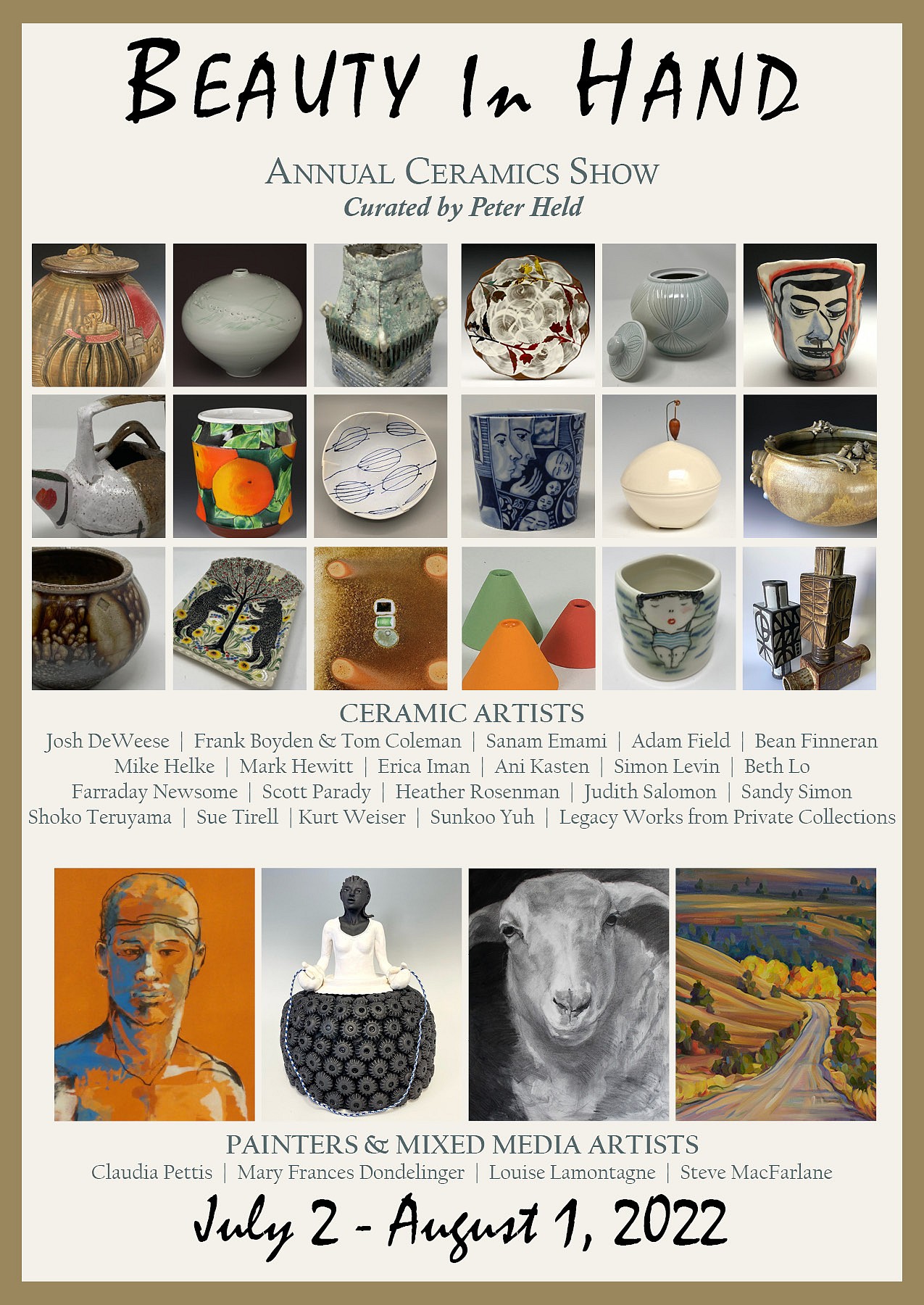 Beauty In Hand
Coeur d' Alene, Idaho – July 1, 2022; Beauty In Hand is brought to you by The Art Spirit Gallery in conjunction with renowned appraiser and curator, Peter Held. This exhibition brings together eminent artists from across the country in a celebration of ceramics. The gallery will be closed June 28, 2022 – July 1, 2022. An opening reception will be held Saturday, July 2, 2022 from 11:00 AM-6:00 PM with talks from select featured artist. A second opening will take place on Friday, July 8th from 5:00-8:00 PM.
Beauty In Hand showcases the variety of craftmanship and technique that span the world of pottery. With over 200 pieces from artists across the United States, the gallery will be brimming with works of a magnitude unique to Coeur d' Alene. Aside from ceramics, a selection of art from Claudia Pettis, Steve Macfarlane, Mary Francis Dondelinger, and Louise Lamontagne will decorate the walls of the gallery.
While some pieces are fresh from the kiln, others have been pulled from private collections – otherwise unavailable to the public eye.
Exhibit Details
Saturday, July 2nd 11:00 am – 6:00 pm Opening Reception
Saturday, July 2nd 2:00 pm Artist Talk; featuring Josh DeWeese,
Mary Frances Dondelinger, Louise Lamontagne
Friday, June 8th 5:00 pm – 8:00 pm Second Reception
All events to be hosted at:
The Art Spirit Gallery | 415 East Sherman Avenue | Coeur d'Alene, ID 83814
www.TheArtSpiritGallery.com | Facebook | The Art Spirit Gallery (@theartspiritcda) • Instagram photos and videos