PRESS RELEASE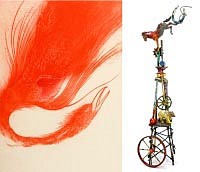 July 8, 2011 - August 6, 2011
The Art Spirit Gallery at 415 Sherman Avenue in Coeur d'Alene will open a show of new work by Frank Boyden & Brad Rude with a reception on Friday, July 8 from 5-8 in conjunction with the 2nd Friday Downtown ArtWalk. Everyone is welcome.


On Saturday, July 9, the artists will give a gallery talk starting at 1pm.


This show is sponsored by Lakeshore Realty and Appraisal. We thank them for their continued support of the arts in our region.
Open every day from 11-6. Call 208.765-6006.


About the Artists:
One of Oregon's best-known artists, Frank Boyden turns the magic and meaning he sees within nature into his artwork. Where the Salmon River empties into the Pacific Ocean under Cascade Head, Frank gleans inspiration for his printmaking and ceramic work. His art celebrates this rich landscape and reflects upon the ways nature can illuminate the human condition. He and his wife Jane founded Sitka Center for Art and Ecology in 1970 and the Margery Davis Boyden writing residency program in 1991. Boyden's artistic practices reflect his lifelong interests in the environment and the biological sciences. He received degrees from Colorado College and Yale University. Boyden's work resides in over 100 major museum and university collections including the Portland Art Museum, the J. Paul Getty Museum of Art in Los Angeles, The Smithsonian American Art Museum, The Victoria and Albert Museum in London and Pushkin Museum in Moscow, Russia.
Artist Brad Rude sees the world through the eyes of a Northwest artist who was born in Montana and has lived in Walla Walla most of his life. His work is somewhere between western realism, abstract openness, and the notebook of an anthropologist in The Twilight Zone. His bronze sculptures often begin with a vague notion and random objects. He mixes and matches and watches where the story leads him. His art and his creatures take form in sculptures which now reside on the sidewalks of downtown Walla Walla, in the Walla Walla Foundry's breezeway, and in the collections of Spokane's Northwest Museum of Arts & Culture, Microsoft, Nordstrom, Seattle's Woodland Park Zoo, and the Boise Art Museum.
Boyden and Rude have collaborated on large public art commissions: The Interactivators, 80 bronze heads on 5 metal tables, for the TriMet WES Commuter Rail and numerous pieces for 3 ambitious spaces in The Doernbecher Children's Hospital, Oregon Health Sciences University in Portland.