PRESS RELEASE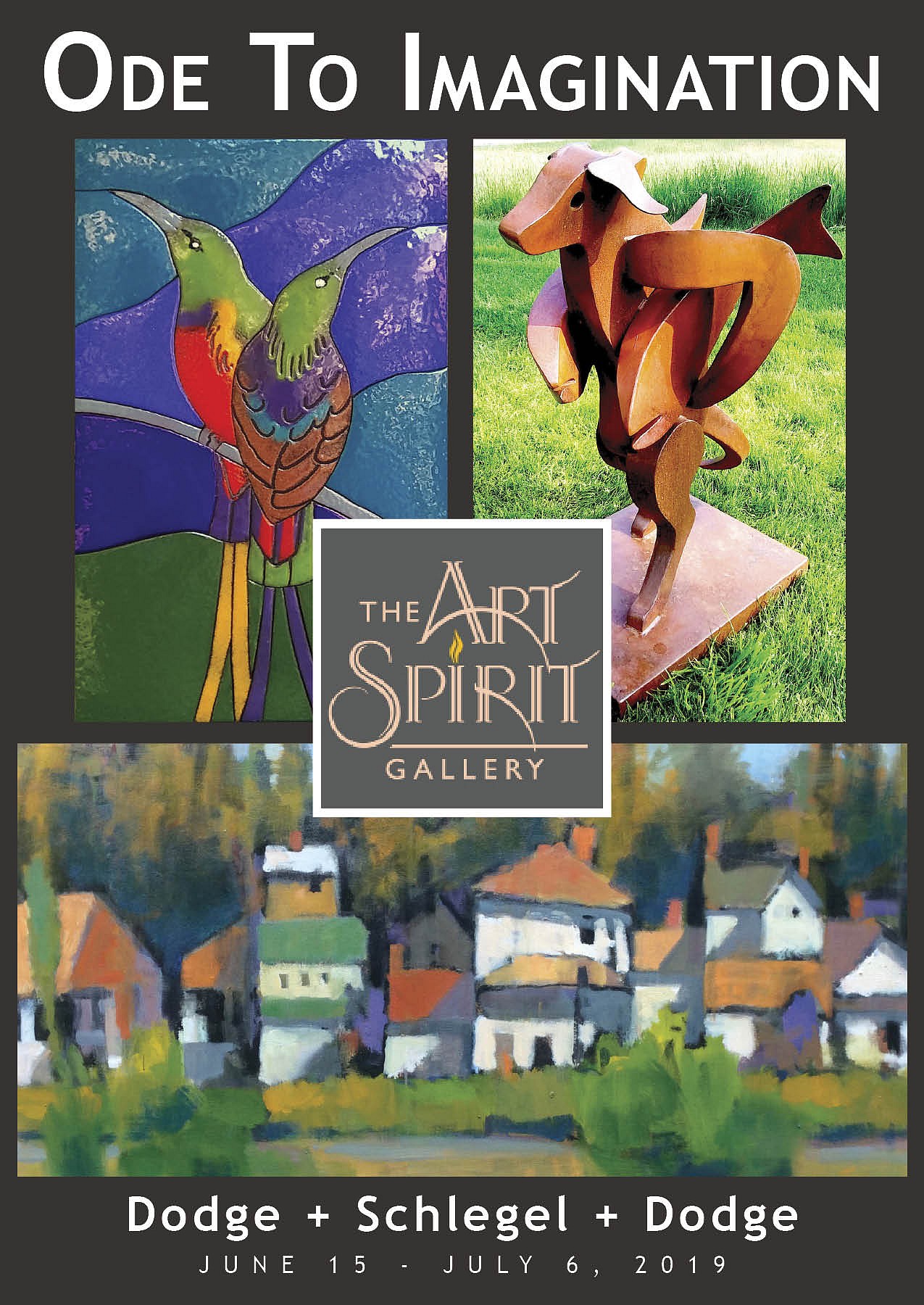 The Art Spirit Gallery unveils a whimsical collection of new work by sculptors and enamel artists Allen and Mary Dee Dodge of Coeur d'Alene and painter Robert Schlegel of Banks, Oregon. These artists, all of whom are members of artist families, combine abstraction with a structural basis, providing a whimsical and unique approach to the possibility of our surroundings. The show runs through July 6th.
Please join us as we celebrate the arts throughout our community. Everyone is welcome.
ABOUT THE ARTISTS
Allen and Mary Dee Dodge – Coeur d'Alene, ID
Allen and Mary Dee Dodge, recipients of the 2018 Mayor's Excellence in the Arts award, have been active in the Coeur d'Alene art scene for over forty years. For this exhibition, the couple has created over seventy new pieces – both individually and collectively, including large welded steel sculpture, abstract and whimsically representational enamel wall pieces, and smaller painted metal sculpture that will engage and amuse viewers. The artists' public art pieces – large metal sculpture, utility boxes, bike racks, collaborative murals, and more - saturate the greater Coeur d'Alene area. The two met and married while attending the Kansas City Art Institute. Mary Dee graduated with a degree in ceramics and Allen in painting and sculpture.
Robert Schlegel – Banks, OR
Robert Schlegel's lifetime commitment to drawing, painting, and sculpture has brought him a broad amount of exposure among the west. Robert's work strives to possess tension between the representational and abstract of his structural and landscape based art. Through examining the interaction of shape, contrast and line layered within his surroundings, he transforms these images and concepts into the compositions of his paintings. He first began exhibiting pen and ink drawings and has since broadened his medium to include oil, acrylic, print making, collage, and sculpture. Robert shares a studio space with his brother Bill, a fellow artist, and collaborated with his son and poet, Rob Schlegel, in 2016 on archival ink jet prints. Editions of these pieces permanently reside in five universities nationally while a variety of his other works have been featured in exhibits at the Portland Art Museum, the John Natsoulas Gallery in Davis, California, and several other galleries in California, Montana, Oregon, and Washington.