PRESS RELEASE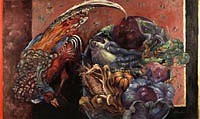 January 13, 2012 - February 4, 2012
The Art Spirit Gallery is proud to kick off 2012 with a show of new work by Kay O'Rourke. The opening reception is on Friday, the 13th of January from 5-8. Meet the artist and enjoy a family-friendly evening of fine art, fine dining and good friends in downtown Coeur d'Alene. Everyone is welcome!
………………………………………………………………………………………………
Kay will give an informal talk and demonstration in the gallery on Saturday, January 14, starting at 1:00.
……………………………………………………………………………………………..
This show is sponsored by Victoria and Dale from Fish Folks and Youngstone Art. We thank them for their delicious seafood and their involvement in the arts of our community.
………………………………………………………………………………………………
About Kay O'Rourke and her latest work:
Kay O'Rourke has learned to get out of her own way and let the creative process happen. "As I get older, my art is my happy place," says O'Rourke, describing not only her vibrantly- colored paintings, drawings and mixed-media constructions, but also the process of creating art.
For more than forty years, this Spokane artist has been charming viewers with her imagery inspired by family, literature, and even day-to-day events. The drama of O'Rourke's artwork- -birds, humans, animals, flowers, fantastical creatures, landscapes and assorted objects-- plays out in large drawings and canvasses generous with color and symbolism.
In the past 20 years, Kay's focus has been concentrated throughout the northwest, including Helena, Montana's Holter Museum of Art, Seattle's Seafirst Gallery, Gonzaga University, and Spokane's Museum of Arts and Culture.
Her work weaves together concurrent ideas, events, techniques and artistic processes, creating a tapestry of images that is uniquely O'Rourke. "A Spin for Joy," for example, is typical of her still lifes. A gleaming dish of parfait amidst the frenetic buzz of hummingbirds and spinning tops, it blends realism with whimsy, permanence with a sense of movement and change.
In "The Summons," a jester rides awkwardly atop a somber dog. The exuberantly-colored jester contrasts sharply with the rest of the mostly black-and-white image, creating both a nostalgic and dreamlike feeling in this charcoal and pastel drawing.
The charcoal and pastel drawings are part of the artist's self-directed process for exploring new ideas. They give her a more immediate way of capturing elements—dogs, birds, fish, toys, the jester—that she describes as just "showing up" in her work. More gestural than her richly-colored paintings, the drawings also give us a rare glimpse into what's teeming beneath the surface of every Kay O'Rourke piece.