PRESS RELEASE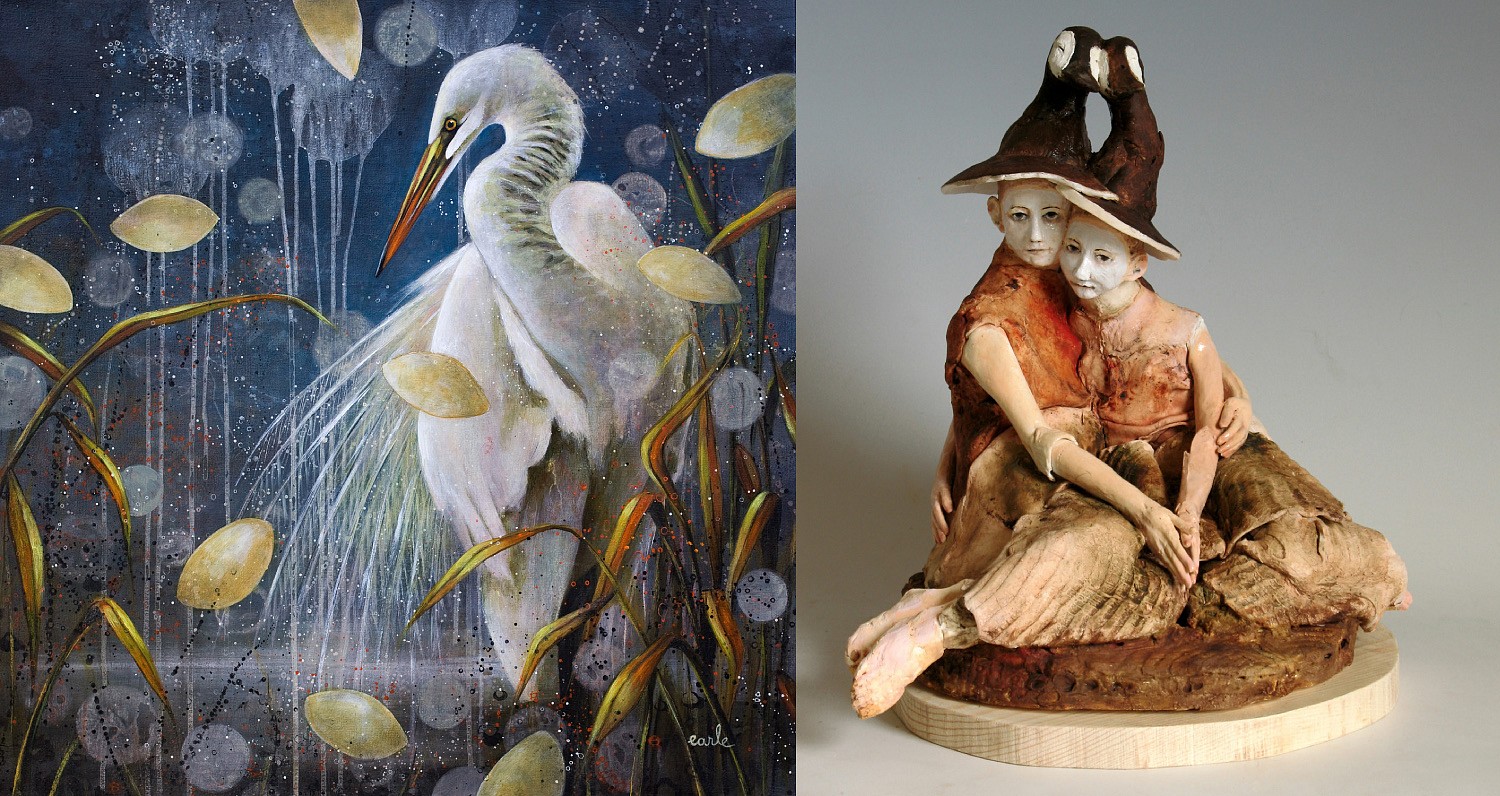 Acrylic painter Catherine Earle of Sandpoint, Idaho and sculptor Cary Weigand of Bandon, Oregon, share more than a friendship. The two artists possess a connectedness to the earth and those that inhabit it as reflected in their work, which creates a fine harmony in the gallery with Earle's paintings on the walls and Weigand's sculptures perched on pedestals. Weigand, well-known for her intriguing mythical porcelain sculptures and Earle, who specializes in compositions of flora and fauna, have been represented by the gallery full time since 2011 and 2012 respectively. The Art Spirit Gallery is proud to show this new body of work by these two outstanding regional artists.

Catherine Earle, originally from southern France, studied art history, sculpture, drawing, and art theory at Ecole'des Beaux-Arts before moving to northern Idaho in the 1990s.
The artist's strong passion for nature is transferred to the canvas. "I am attracted to birds, flowers, animals, and fish, as they are the carriers of the continuity of life. My paintings talk about the cycle of life – the seasons, the changing colors, the life around birthing, living, and dying . . . all full of beauty." Subjects of Earle's paintings speak to her values. The swan, for example, represents strength and grace. Each subject is adorned with colorful shapes and intentional splatters that add depth and intrigue.
After years of working with watercolor and encaustic, Earle now feels she can reproduce both effects with acrylic, her current medium. Like Weigand, Earle describes her process as completely intuitive. "I am inspired by my memories, memories of light through leaves, fluttering butterflies, reflection of colors and images. I do not sketch but rely mostly on the perception of a moment that will later unfold with my own imagination." Earle works quickly, layering color and water to create a subtle sense of light and transparency. Forms and shapes emerge. "My imagination will pick up, and the painting and I will start a visual dialogue." After about 4-7 hours of work on a particular piece, Catherine will take it into her house to experience it as an observer. Only then will she decide if the piece is done, which more often than not, it is.
Earle has been featured in both Sandpoint Magazine and Western Art and Architecture. A video that describes Catherine's subject matter and painting process can be found here.
Cary Weigand was born and raised in Hawaii, where she earned her BFA and MFA from the University of Hawaii. Her work has been published in Ceramics Technical, and she was awarded one of Ceramics Monthly's Emerging Artists for 2011.
Since she first began showing at The Art Spirit Gallery, Weigand quickly gained a solid following. Her sculptures, rich with symbolic detail, depict spiritual traditions and mythologies from all over the world. She skillfully sculpts both human and animal figures – some realistic, some contrived and beastlike – that embody other-worldly wisdom, focusing more on the emotion and inner life of the subject rather than a literal depiction of physical form. These figures represent a journey of everyday creatures seeking attainment in a "love bigger than the universe." Cary's concern for nature is truly apparent in her work. The artist believes "what we do to nature, we do to ourselves." Many of her characters appear to be journeying through and protecting the natural elements around them.
According to Gibbs, "Cary's sculptures are undeniably powerful; they reflect her personal philosophy that animals and humans share responsibility for safekeeping the earth." Weigand's process is completely intuitive. "When I am working, I let go of all results. In this way, I open the door to deeper intentions that are not personal, but from a greater and deeper ocean of mind," states the artist. "The process teaches me to look deeper than just the surface of the work."
Weigand's work has been published in Ceramics Technical and Combustus Magazine. In 2011, Weigand was awarded one of Ceramics Monthly's Emerging Artists. To learn more about the artist, click here for a video produced by Oregon Art Beat.