PRESS RELEASE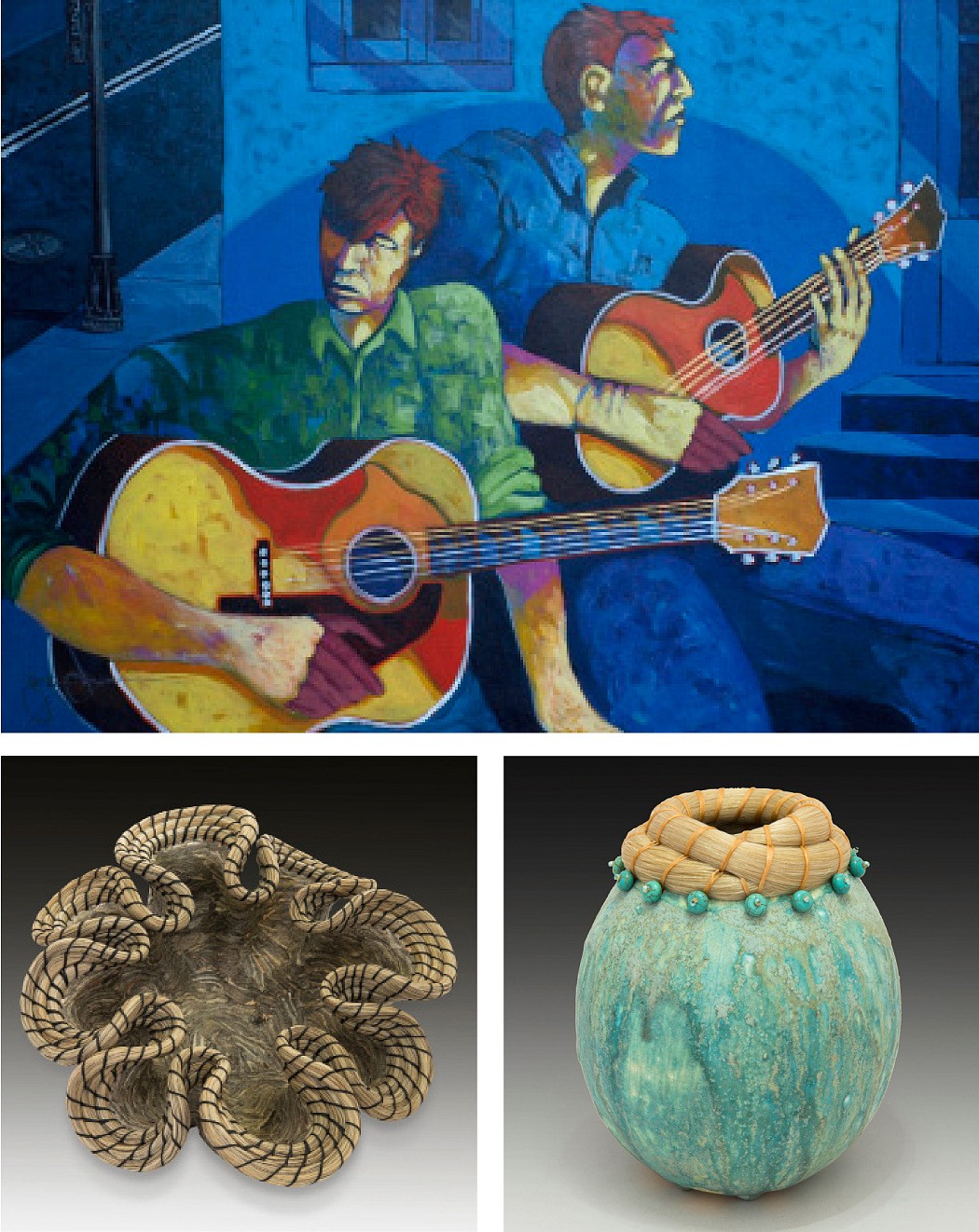 Opening Reception: Friday the 13th of March from 5-8
Informal Artist Talk & Demonstration: Saturday, March 14 starting at 1:00
Winter Hours: Tuesday-Saturday from 11:00-6:00
Sponsor: Crafted Tap House & Kitchen in Downtown Coeur d'Alene at 540 Sherman Avenue. We thank them for their great beer, fine food and for their commitment to the arts of our region.
RIC GENDRON is an enrolled member of the Colville Confederated tribes, and has been a full-time professional artist for more than three decades. He paints every day combining the pop-culture iconography of contemporary America with symbols from his Native American heritage. Essentially a narrative painter, he creates expressionist, strikingly colorful images that chronicle his experience, memory, history, journeys and identity. Also a gifted guitarist, Gendron's work is strongly influenced by traditional and contemporary Native music and American blues, country, folk, and rock and roll.
Gendron received his art degree from Spokane Falls Community College in 1983 and studied art at Cornish College of the Arts in Seattle, and at Eastern Washington University. He shows annually and has won awards at the Santa Fe Indian Market. He has exhibited at the Eiteljorg Museum of American Indians and Western Art in Indianapolis, Indiana; Purdue University, in West Lafayette, Indiana; and at the Center on Contemporary Art, in Seattle and the Blue Sage Gallery in Scottsdale, Arizona.
In 2012, Ric published the book 'RattleBone' - a mid-career, full-color book written by Ben Mitchell in conjunction with the traveling show by the same name. From 2012 to 2015, this exhibit travels to the Missoula Art Museum; Tamastslikt Cultural Institute in Pendleton, Oregon; Museum of Contemporary Native Arts, in Santa Fe, New Mexico; and Jundt Art Museum. The exhibit is currently showing at the Jundt Museum at Gonzaga University, in Spokane on the final stop of the tour. The exhibit will run through April 2, 2015. http://news.gonzaga.edu/2015/jundt-art-museum-opens-year-ric
VALERIE SEABERG is an artist/educator living in Jackson Hole, Wyoming. Valerie combines a lifetime of art making with engaged, informative teaching on art and the practices of creative life. She works through The Center for Wonder, The Art Association of Jackson Hole, The Teton Science and Community Schools, Red Top Meadows, and The Public Schools. Her work is influenced by the ocean, and the mountains where she has made her home.
Valerie received her Bachelor's degree in religion from West Verginia Wesleyan College, in Buckhannon, West VA. She then went on to earn a Master's degree in Counseling/Psychology and Expressive Arts Therapy, from the Institute of Transpersonal Psychology, in Palo Alto, CA.
Her mixed media vessels are like great, tumbled beach combing finds, in which undulating clay forms are encircled by pine needles and horsehair. They are high country marriages between an ancient ocean and raw land. Her works are muscular, sensual and speak of a deep sense of time, earth and, element.
"I am amazed at my good fortune to be doing the work of an artist. I love that my job entails spending whole days down by the river harvesting or hunkered down next to a smoking fire pit. Indigenous cultures all over the world still weave and fire their work as I do. I see myself as standing in a long line of artisans as time moves forward my work will become a part of the natural evolution of this art's history."
In 2010 Valerie was the Purchase Prize Winner at the Governor's Capital Art Exhibition held at the Wyoming State Museum. Her works are shown at galleries in Wyoming, California, and Idaho.
"I am grateful for the way this work surprises and informs me, and always leads me to the point of the unknown. My intention as an artist and as a person is to look at the world with curious eyes and to be guided by the natural intelligence of the creative process."
……………
Also included in this exhibit will be artist SHANNON TROXLER. Shannon was raised on the Chesapeake Bay near Annapolis, Maryland. She began sketching at an early age, and was encouraged by her grandmother, Shirley, an artist. Shannon is a graduate of the Schuler School of Fine Art, a classical atelier located in Baltimore, Maryland. Her five years of study included grinding pigments, boiling black oil for medium and making ink from black walnuts. She learned to appreciate the craft of art and the traditions of the old masters. Her teacher, Ann Schuler, continues to be an inspiration and a mentor. Shannon continued her studies with David Leffel at the Art Students League in New York City.
Shannon traveled to Jackson Hole, Wyoming to pursue her love of landscape painting. Inspired by the natural beauty and community of artists, she remained and has a studio in Wilson, Wyoming where she lives with her daughter, Aviva and husband, Larry. Troxler has had numerous solo shows in Jackson and on the east coast. Her paintings have been accepted in many prestigious exhibits including, Arts for The Parks top 100, Paint America top 100, The Governor's Capitol Art Exhibition, and The Salmagundi Club. She has won purchase awards in the Wichita National Small Painting Exhibition. Troxler is a member of the Mid Atlantic Plein Air Association, and was a juried artists for the 2009 Annapolis Pain Out and Exhibit. Shannon Troxler's paintings have been included in the Woodson Museum's Birds in Art Exhibit, and in a 2012 she had a solo show at the Samuel Morse Museum in Poughkeepsie, NY.