PRESS RELEASE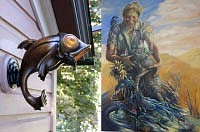 January 10, 2014 - February 8, 2014
-Join us on Friday, January 10th for the Opening Reception for Walla Walla natives Kay O'Rourke and Wayne Chabre. The community is invited to meet the artists and see their new work.
-The artists will give an informal talk/demonstration on Saturday, January 11th starting at 1 pm.
- WINTER HOURS: Open Tuesday – Saturday 11am- 6pm
……………………………………………..
The Art Spirit Gallery greets the New Year with a presentation of new works by two old friends. Walla Walla natives Kay O'Rourke and Wayne Chabre have been friends since their college years. January's exhibition is the first introduction of Chabre's metal sculptures to The Art Spirit Gallery community, while O'Rourke's work in oil on canvas has been regularly featured at the gallery since 2011. For Chabre, this is sure to be only the first of many exhibitions at The Art Spirit Gallery.
Though they hail from the same part of the region, O'Rourke and Chabre's friendship began in earnest when they attended Gonzaga University in the late 1960's. There, they both blossomed creatively under the mentorship of Harold Balazs. Chabre, a third-generation Walla Walla resident, returned to his home town following his 1969 graduation from Gonzaga. O'Rourke remained in the Spokane area, where her works, though constantly evolving, are a familiar part of the region's visual culture. The artists' respective careers have taken very different directions, yet both artists resemble Balazs in their expression of authentically individual styles.
Wayne Chabre's cast and assembled metal sculptures have been a strong presence in the region's public art realm for 40 years. His work appears at the Universities of Oregon and Washington as well as in the city centers of Portland, Wenatchee, Tacoma and Seattle. Chabre is currently in the process of fabricating a new pair of massive gargoyles for the University of Oregon, which will be installed in April 2014.
Chabre's work results from his training and practice, to be sure, but also from a creative partnership with his wife and fellow artist, Jeanne McMenemy. The pair collaborates to fulfill the formidable bureaucratic requirements of public works. McMenemy's hand is also visible in the calligraphic elements of Chabre's sculptures.
Organic, flowing lines and forms are the foundation of Chabre's style. The visual result might be described as whimsical, but the work does not lack a sense of gravitas. Employing a variety of animal, human and architectural imagery, Chabre uses a playful approach to address the weightiest of life's questions. His choice of subject matter posits the ordinary as a signifier of universal truth. In Chabre's hands, even the most "prosaic, domestic animals become heroic."
Regular visitors to The Art Spirit Gallery are acquainted with Kay O'Rourke's human and animal figures, and she, much like Chabre, uses them to create visual metaphors. Mysterious narratives take center stage in her large-scale drawings and oil paintings. O'Rourke says that she experiences life as a series of stories. Those stories are translated into the pictorial folktales that make up each body of her work.
Also like Chabre, O'Rourke uses her subject matter to hint at collective human experiences. While her concepts grow and change during the process of creation, there are often characters that remain constant in her imagery. For the regional arts community, Kay O'Rourke's mythological figures have become familiar friends.
Along with narrative content, it is O'Rourke's visual choices that distinguish her work. Figures are depicted with vestiges of realism, but are placed in the situations and spaces of dreams. This combination of representational and abstract imagery underlines the fairytale quality of O'Rourke's visual stories.
The Art Spirit Gallery's January exhibition is a decisive kick start to 2014. As always, the public is warmly welcomed!