PRESS RELEASE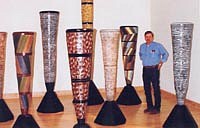 September 9, 2005 - October 8, 2005
Opening Reception: Friday, September 9 from 5-8 pm
This show is dedicated to Dick Baiter and in loving memory of Lynn Baiter for their unwavering support of ceramic art and artists. Ten percent of sales will be donated by the artist and gallery to Lynn's favorite charity--Meals on Wheels.
About the artist- Forceful winds that redefine the landscape and transform the sky into a mosaic of moving lights and shapes are captured in Terry Gieber's clay creations. From his towering tornado jars to his mesmerizing platter squares and open-mouthed sagger jars, Gieber incorporates his awe for Nature's power in every clay work he designs.
"I think of landscape all the time," he says. "My work is always about the earth."
Dramatic thunderstorms in Kansas won his fascination with Nature during boyhood. South Dakota tornadoes intensified it as a young adult. Gieber once clung to a combine's axle during a wheat harvest as the sky blackened with an approaching squall and blinding streaks of lightning offered the only light. Three tornadoes descended that day, filling the sky with a webbing of wheat and flinging a tree at Gieber's combine. Nature's impression on the budding artist was permanent.
Clay was Gieber's chosen medium to relay his interpretations of Nature. With a master's of fine arts degree in ceramics from the University of Iowa, Gieber arrived in Spokane in 1983 to teach art at Gonzaga University. Students learned from his clay dust devils, conical jars locked in the dark swirls of a vortex. They studied his earth colors—the tans and browns of Dakota flax fields—and the intricate patterns in his work.
"The patterns made by the plow and the springtooth are always in my work," Gieber says.
He introduced his first tornado jar at the Washington Centennial exhibit in Tacoma in 1989. The "Dorothy and Toto Jar" was nine feet tall and the blending of three sections. It leaned precariously on the exhibit hall's uneven floor, but Gieber chose not to correct it after he heard an elderly couple's shocked scream as they noticed it. He couldn't resist the tension his work produced.
"That's what I want my work to do," he says. "I really enjoy how people react to the jars."
Now the chairman of Gonzaga's art department, Gieber lives to learn. His latest work reflects his experiments with firing methods to alter texture, color and glaze. Gieber discovered he could manipulate gas-fired kilns to starve oxygen and force carbon dioxide to seek out chemical oxygen for a dramatic effect. He found wood thrown into wood kilns converts to ash that flashes onto the clay and turns to glaze.
"It's decorating with fire itself," he says.
His newest work also exhibits a water-glass surface he produced from experiments with soda firing and the explosive results of injecting rock salt into a kiln at a fire's height. Discovery is as important as creativity to Gieber's work.
"It's always a learning process," he says. "I'm consciously aware of the fact that there's so much more to know."