PRESS RELEASE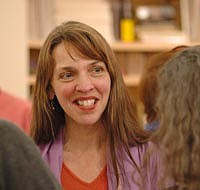 October 9, 2009 - November 7, 2009
The Art Spirit Gallery at 415 Sherman Avenue in downtown Coeur d'Alene is proud to feature Mary Farrell –Crossover, an exhibition featuring 18 new monotypes along with other recent work. The opening reception is on Friday, October 9 from 5-8 in conjunction with the 2nd Friday Downtown Art Walk. Everyone is welcome. The show runs from October 9 – November 7, 2009.
We look forward to seeing you at the opening. It will be a great opportunity to meet Mary. She is a renowned printmaker and well respected Professor.
This show is sponsored by Cindy Sweeney of Lakeshore Realty and Peter Sweeney of Bank of America Mortgage.
Fall/Winter Hours: Open Tuesday through Saturday 11-6.
MARY FARRELL
RESUME


WORK
1995-Present -Professor, Gonzaga University/Spokane, WA


EDUCATION
1995 -MFA Printmaking, University of Cincinnati
1989 -BFA Printmaking, Art Academy of Cincinnati
1968-71-Edgecliff College, Cincinnati, OH


HONORS AND AWARDS
2002, 03, 04 -Gonzaga Research Council Award
2001 -Scholar of the Year Award Gonzaga University
2000 -Artist Trust Fellowship, Washington State
2000, 1997 -Artist Trust GAP Grant, Washington State
1994, 1992, 1989 -Indivual Artist Grant, City of Cincinnati
1994 -Wolfstein Travel Grant, University of Cincinnati (Travel to Ireland)
1990 -Kentucky Foundation for Women Grant, Louisville, KY
1990 -Stephen H. Wilder Travel Grant, Art Academy of Cincinnati


SOLO EXHIBITIONS
2009 -Crossover, Art Spirit Gallery, Coeur d'Alene
-Prints & Drawings, Convergys Gallery, Cincinnati, OH
2008 -Mary Farrell's Work Exhibition, Hubei Institute of Art, Wuhan, China
-Mary Farrell Works, Meilianshe Art Gallery, Hankou Wuhan, China
2007 -Mary Farrell: Recent Work, The Art Spirit Gallery, Coeur d'Alene
2006 -Skin and Bones, Crown Center Gallery, Loyola Un., Chicago
-Location/ Prints & Drawings, Esvelt Gallery, Pasco, WA
2005 -Prints & Drawings, The Art Spirit Gallery, Coeur d'Alene
2003 -Strata: Prints & Drawings, University of Montana, Missoula
2002 -Wood Cuts & Monotypes, The Art Spirit Gallery, Coeur d'Alene
2000 -Strata: Prints & Drawings, The Art Spirit Gallery, Coeur d'Alene
-Recent Prints & Drawings, Boswell Gallery, North ID College, CdA
-Strata, Shircliff Gallery of Art, Vincennes University, Vincennes, IN
1999 -Mary Farrell: Figure & Figural, Jundt Art Museum, Spokane, WA
-Recent Prints, John and Betty Gray Gallery of the Northwest Print Council, Portland, OR
-Terrain, Chase Gallery, Spokane, WA
1996 -Recent Prints, Paintings and Drawings, Jundt Art Museum, WA
1995 -Carnegie Art Center, Covington, KY
1994 -Landscapes of Ireland, Thomas More College, Crestview, KY


SELECTED GROUP EXHIBITIONS
2009 -Goathead Press, Invitational Print Show, Tieton, WA
-Allied Arts of Yakima Invitational, Yakima, WA
-Recent Work, Davidson Galleries, Seattle WA
-Exhibit Spokane, Arcade Gallery, Jundt Art Museum, Spokane WA
-Print Arts Northwest Show, Sease Library, Sease OR
2008 -Contemporary Printmaking, Manifest Gallery, Cincinnati, OH
-Geography /Geology (2 person show), Jundt Art Museum, Spokane
-Small Works Show, Art Spirit Gallery, Coeur d'Alene
-Figures, Print Arts Northwest Gallery, Portland, OR
-Locals, Fine Art Gallery, Spokane Falls Comm. College, Spokane
-Janet Turner National Print Competition, Turner Print Museum, California State University, Chico, CA
2007 -Print 2007, MeiLianShe Gallery, Wuhan, China
-6th Lessedra World Art Print Annual, Sofia, Bulgaria
-New Work By Gallery Artists, Davidson Galleries, Seattle WA
-Small Artworks Invitational, The Art Spirit Gallery, Coeur d'Alene
-New Works by 10 Gallery Artists, Art Spirit Gallery, Coeur d'Alene
-MAPC Members Show, Safety-Kleen Gallery One, Elgin, IL
-International Miniature Print Exhibition, Center for Contemporary Printmaking, Norwalk, CT
-Mary, Wendy and Gina, Koehler Gallery, Whitworth College, WA
-Selected Works from the Private Collection of the Jundt Art Museum, Spokane Falls Comm. College Gallery of Art, WA
-Print 2007, MeiLianShe Gallery, Wuhan, China
-6th Lessedra World Art Print Annual, Sofia, Bulgaria
-MAPC Members Show, Safety-Kleen Gallery One, Elgin, IL
-International Miniature Print Exhibition, Center for Contemporary Printmaking, Norwalk, CT
-Mary, Wendy and Gina, Koehler Gallery, Whitworth College, Spokane, WA
-Selected Works from the Private Collection of the Jundt Art Museum, Spokane Falls Comm. College Gallery of Art
2006 -New Work by Gallery Artists, Davidson Galleries, Seattle, WA
-Printmaking Invitational Show, North Idaho College, CdA
-Farrell, Freuen, Gieber, Gilmore, Jundt Art Museum, Spokane, WA
-Alumni Invitational Show, Pearlman Gallery, Art Academy of Cincinnati, Cincinnati, OH
-19th Parkse Small Print Exhibition, Un. of Wisconsin, Parkse, WI
2005 -Small Works Invitational Show, The Art Spirit Gallery, CdA
2004 -Matrix Press: Selections from the University of Montana Dept. of Art Print Collection
-Gallery of Visual Art, University of Montana, Missoula,
-Parkse National Small Print Exhibition, U. of Wisconsin-Parkse
-Public/Private Space, SFCC Gallery, Spokane WA
2003 -Monoprints, Northwest Print Council, Portland, OR
-5th British International Miniature Print Exhibition,UK
-ANA 32, Holter Art Museum, Helena, MT
-NWPC Print Show, Pierce College, Steilacoom, WA
-Mother/Father, Chase Gallery, Spokane, WA
-Studio Art Faculty Show, Jundt Art Museum, Spokane
-Home/Land, Port Angeles Art Center, WA
-Opening Show, Art Spirit Gallery, Coeur d'Alene
-Faculty Invitational Show, Art College International, San Diego
2002 -NWPC Show, Southern Oregon University, OR
-Small Artworks Invitational, The Art Spirit Gallery, Coeur d'Alene
-The 12th Space International Print Biennial, Seoul, Korea
-Past & Present Northwest, Jundt Art Museum, Spokane, WA
-NWPC at the Carnegie Art Center, Oregon City, OR
-Process and Prints, Yo Gallery, Manchester, NH
-NWPC Show, Central Print Council, Wanganui, New Zealand
-Printmaking Invitational Exhibition, Lorinda Knight Gallery
-MAPC Show, Denver International Airport, Denver, CO
2001 -Catalogue Show, Davidson Galleries, Seattle, WA (catalogue)
-Figurative Impressions, Campbell Gallery, Western OR. Un., Monmouth. OR
-Miniprint Finland 2001, Lahti Art Museum, Lahti, Finland (catalogue)
-Drawn To The Wall, Jundt Art Museum, Spokane, WA
-International Miniature Print Exhibition, Davidson Galleries, Seattle
-Border to border no. 8, Austin Peay State U., Clarksville, TN (catalogue)
-Points of View, National Exhibition of 10 Women Printmakers, Austin Coalition of Artists Gallery, TX
-NW Print Council Show, Columbia Art Gallery, Hood River, OR
-NWPC Show, Evergreen Gallery, Evergreen State College, WA
-NWPC All Members Show, Pacific Northwest College of Art Swiggert Commons, Portland, OR
-Small Artworks Invitational, Art Spirit Gallery, Coeur d'Alene
2000 -Point of View, U. of Delaware Art Department Gallery, Newark, DE
-NW Print Invitational WA Artists, Davidson Galleries, Seattle
-Printworks 2000: Recent Acquisitions, Seattle Arts Commission, Key Tower Building, Seattle, WA
-Relativities, 4th British Miniature Print Exhibition, Off-Centre Gallery, Bristol, England (catalogue)
-Visage, Spokane Art School, Spokane, WA
-13th Parkse National Small Print Exhibition, University of WI, Kenosha, WI (catalogue)
-Annual Meeting Show, Northwest Print Council, John & Betty Gray Gallery, Portland, OR
-Northwest Print Council Show, Buckley Center,Portland, OR
-Prints From The Northwest Print Council, University of Guanajuato, Mexico
1999 -Janet Turner Natl. Print Competition, California State U.,IL
-Parkse National Small Print Exhibition, University of Wisconsin, Kenosha, WI (catalogue)
-Pacific Rim -International Print Exhibition, U.of Hawaii at Hilo, Hilo, HI (catalogue)
1998 -A Celebration of Prints, Malton Gallery, Cincinnati, OH
-Alumni Print Show, University of Cincinnati, Cincinnati, OH
-International Exhibition of Contemporary Mezzotints, Davidson Galleries, Seattle, WA
-Pacific International Print Project, China National Academy of Fine Arts, Hangzhou, China (catalogue)
-Artist Trust Grant Recipients Show, Chase Gallery, Spokane, WA
1997 -Northwest Print Council Seattle Pacific Exhibition, Art Center Gallery, Seattle, WA
-Northwest Print Council New Members Show, Portland, OR
-Summer Solstice, Lorinda Knight Gallery, Spokane
-Women's Self-Images, The Workshop Print Gallery at the Chicago Printmakers' Collaborative, Chicago, IL
-Figurative Show, Davidson Galleries, Seattle, WA
1996 -Print Show, Davidson Galleries Contemporary Print Center
-Printmakers 96, University Gallery, U. of Pittsburgh, Pittsburgh, PA
-The Defining Line/Drawing Explored, Spokane Art School, WA
-Women's Self Image Portfolio Project, Bemji State U, MN
-Printmaker's Renaissance Exhibition Two, Rolling Stone Press, Atlanta, GA (catalogue)
1995 -Kentucky Foundation for Women Ten Year Celebration, No. Kentucky Un.
-Bharat Bhavan International Biennial of Prints, Bhopal, India (catalogue)
-MFA Thesis Exhibition, Tangeman Gallery, University of Cincinnati
1994 -Landscapes of Ireland, 840 Gallery, University of Cincinnati
-Melange, Machine Shop Gallery, Cincinnati, OH
-Academy on the Square, Cincinnati Arts Festival, Cincinnati, OH
1993 -Works on Paper, Museum of Kharkiv, Ukraine
-Mask: Mystery, Myth, and Metaphor, Malton Gallery, Cincinnati, OH
-Opening Show, Locus Gallery, St. Louis, MO
-The Fragile Environ., The McDonough Museum of Art, Youngstown State Un, Youngstown, OH
-The Dairy Barn Cultural Arts Center, Athens, OH (catalogue)
-Women Facing Self, Crazy Ladies Gallery, Cincinnati
-First Hand Experience, WCET Gallery, Cincinnati, OH
1992 -Three Artists, Malton Gallery of Cincinnati, OH
1991 -Cincinnati Collects/The Corporate View, The Contemp. Arts Center, Cincinnati, OH
-Women's Caucus for Art Annual Juried Exhibition, Bunte Gallery, Columbia, OH
-Collective Contrasts, KY Foundation for Women Grant Recipients Show, Zephyr Gallery, Louisville, KY
1990 -Alumni Juried Show, Academy Gallery, Cincinnati, OH
-Monoprints, Winton Gallery, Cincinnati
-Four Artists, Annex Gallery, Cincinnati
-The 1st National Printmaking Sle/Veo Exchange & USA Tour
1989 -New Talent, KZF Gallery, Cincinnati, OH
-Nine Artists, Central Trust, Cincinnati, OH
-Conference of Cincinnati Women Juried Show, Carnegie Art Cnt., Covington, KY
1988 -Figurative Show, Art Academy of Cincinnati, Cincinnati, OH


COLLECTIONS
-Hubei Institute of Art, Wuhan, China
-Northwest Museum of Arts and Culture, Spokane WA
-Portland Art Museum
-City of Seattle Art Collection, Seattle, WA
-China National Academy of Fine Arts, Hangzhou, China
-Jundt Art Museum, Spokane, WA
-University of Texas at Tyler, TX
-University of Wisconsin-Parkse, Kenosha, WI
-University of Cincinnati, Cincinnati, OH
-Heelberg Distributing Company, Cincinnati, OH
-Northwest Community Hospital, Chicago, IL
-Price Waterhouse, Cincinnati, OH
-Cincinnati Financial Corporation, Cincinnati, OH
-Cincinnati Bell Collection, Cincinnati, OH
-Cincinnati Bell Information Systems, Cincinnati, OH


GALLERY AFFILIATION & PROFESSIONAL MEMBERSHIPS
-Davidson Gallery, Seattle, WA
-Art Spirit Gallery, Coeur d'Alene, ID
-Member Print Arts Northwest
-Member Mid-America Print Council
-Member Artist Trust of Washington
-Member Southern Graphics Council