PRESS RELEASE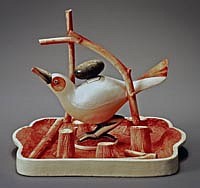 May 14, 2010 - June 5, 2010
The Art Spirit Gallery at 415 Sherman Ave. in downtown Coeur d'Alene will open their 11th Annual Clay Invitational --featuring 16 artists on Friday, May 14th with a reception from 5-8 in conjunction with the Downtown ArtWalk. This show runs May 14 – June 5. Everyone is welcome!
……………………………………………………………………………………………………
This year we are doing something innovative and fresh. Two accomplished clay artists from the west coast will curate the show. Their combined 80 some years of experience helped gather together some of the most brilliant names in the field. We are extremely excited by the caliber of ceramists selected and the fine art they will bring to the Gallery.


Statement from the Curators……
"The group selected for this show represents some of America's finest clay artists as well as up and coming artists deserving acknowledgment and visibility of their work. They represent the full spectrum of clay as sculpture and the clay process: from wood-fired to low-fired, from hand-built to slip-cast, from the vessel to the figure. We feel this body of work will be an inspiration to us all, artists and collectors alike."
--- Al Tennant and Steve Sauer, guest curators


The 16 participating clay artists are:
-Dean Adams, Bozeman, MT
-Matt Allison, Seattle, WA
-Jenny Andersen, Bainbridge Island, WA
-Adrian Arleo, Lolo, MT
-Frank Boyden, Otis, OR
-Tom Coleman, Henderson, NV
-Elaine Coleman, Henderson, NV
-Chuck Hindes, Coupeville, WA
-Ken Lundemo, Seabeck, WA
-Ryan Mitchell, Missoula, MT
-Dan Murphy, Logan, UT
-Don Reitz, Clarkdale, AZ
-Valerie Seaberg, Jackson, WY
-Susan Stewart, Seattle, WA
-Patti Warashina, Seattle, WA
-Shane Watson, Silverdale, WA


The Curators:
Steve Sauer, Port Orchard, WA
Steve has been making pots for over 35 years. Ruth Duckworth taught him hand construction and Hiroshi Ogawa taught him anagama wood firing. He has dedicated his life to wood firing for the natural, simplistic beauty it brings to his vessels as well as the community of potters it builds. He is widely published and collected with numerous best in show awards.


Al Tennant, Coupeville, WA
Al received his MFA in ceramics at Montana State College in 1969. He was a professor of art at The University of Alaska from 1975-1992 before relocating to the Washington coast to focus on wood-firing. Al creates wood-fired platters, vessels and sculptures that have a raw, earthy feel that looks casual, but is the result of his thorough mastery of his craft.
……………………………………………………………………………………………
This show is generously sponsored by Quarry Tile Company and Precision H2O.
We applaud Quarry Tile Co. for their great support of the clay arts in our region. They have sponsored our clay invitational for all eleven years!
The gallery is open Tues.-Sat. from 11-6 now through May. Open every day June through September. Call (208)765-6006