PRESS RELEASE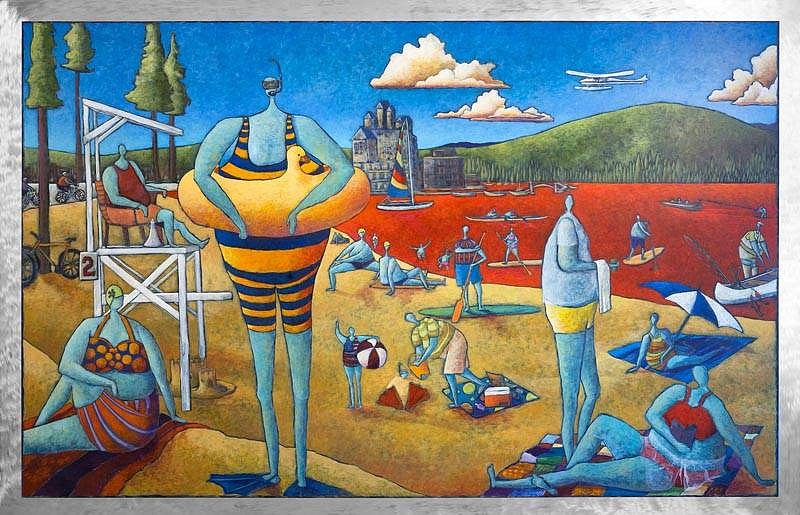 February 10, 2011 - March 3, 2011
The Art Spirit Gallery is proud to open a show of 25 new acrylic paintings on aluminum by Jerri Lisk. The opening reception is on Friday, February 12 from 5-8. Meet the artist and enjoy a family-friendly evening of fine art, fine dining and good friends in downtown Coeur d'Alene. Everyone is welcome!
………………………………………………………………………………………………
Jerri will give an informal talk and demonstration in the gallery on Saturday, February 11, starting at 1:00.
………………………………………………………………………………………………
About Jerri Lisk and her latest work:
It all begins with shape and line for artist Jerri Lisk, followed quickly by wonderfully saturated color. A stand of white birch, the upward angle of a gnarled tree branch, the subtle tension of vertical figures against the lake horizon, Lisk is able to pare down the essentials of her subject matter into a pristine contour line drawing, then give it volume with shading and color. Lisk layers acrylic paint over an unusual "canvas" of sanded aluminum to create a luminous yet modern, contemporary surface with subtle and enduring depth.
Much like a stained glass artist—she studied glass, as well as painting and faux finishing—Lisk uses line to both distinguish individual shapes or areas of color and to unite the overall piece. Those lines take us all over the piece, pulling us ever inward.
Jerri Lisk has made her home in the northwest amongst the mountain and desert scenes and myriad trees that often populate her unusual acrylic-on-aluminum paintings. She brings the shape and color of nature to life for us indoors, especially the rugged landscape surrounding her Boise, Idaho home. That's where she and her husband/photographer Mark operate the Lisk Gallery. She has been featured locally in The Idaho Statesman, as well as nationally inSouthwest Art and Good House Keeping.
The Art Spirit Gallery is proud to have our first featured show of this Idaho artist. Jerri has worked hard to develop a body of work recognizing our region.