PRESS RELEASE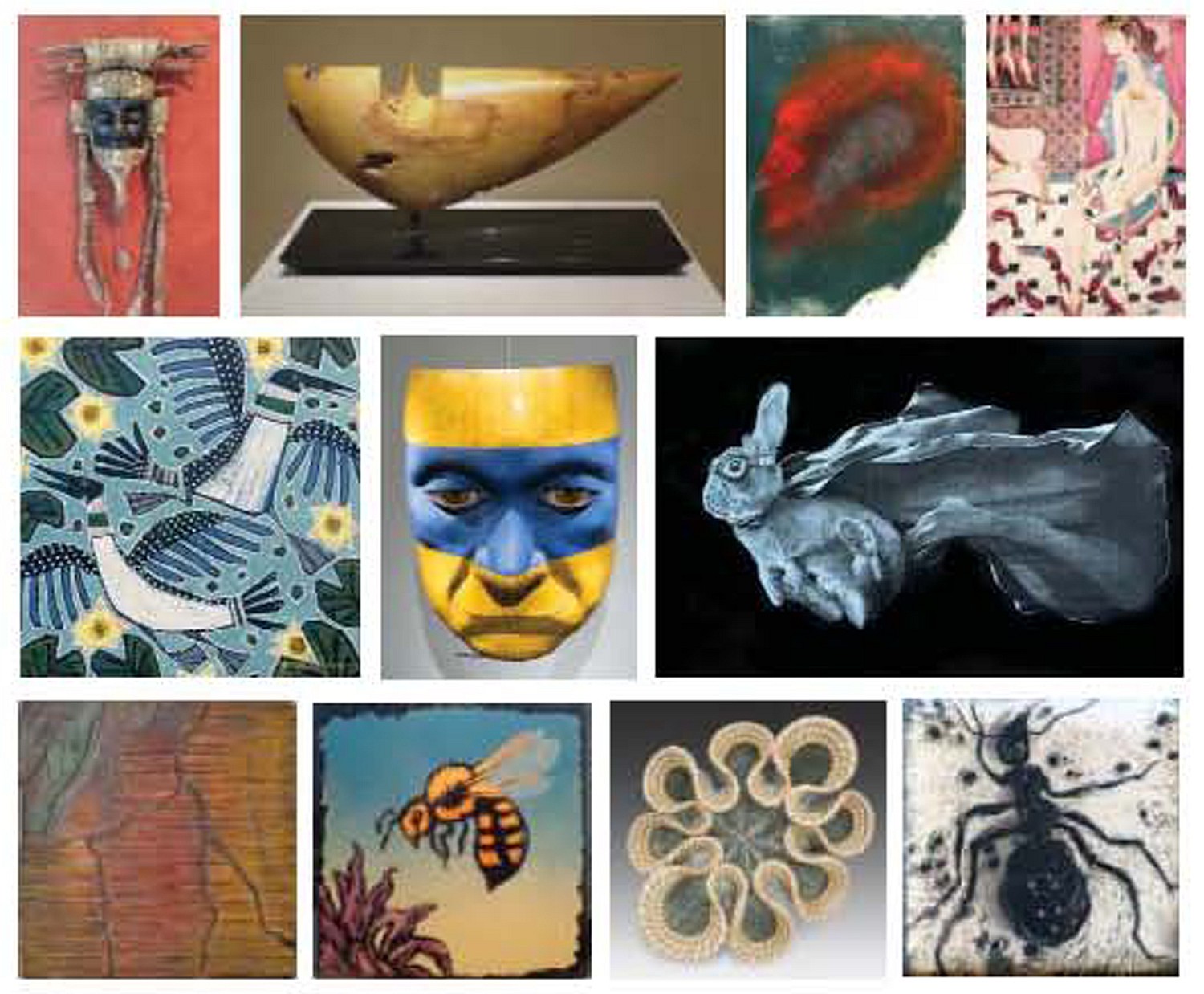 Please join us for the Opening Reception from 5-8:00 on Friday, April 9 in conjunction with ArtWalk in downtown Coeur d'Alene. This show runs from April 8 – May 7. Spring Hours: Tues. - Sat. from 11-6.
This show is sponsored by Select Wood Floors. We thank them for their support of the arts in our community and for the spectacular new finish on our hickory floors.
New Work by Eleven Artists
Below we have included a brief bio for each of the artists. Please let us know if we can provide any more information.
PARTICIPATING ARTISTS:
Manel Alvarez from Spain, but planning to relocate to Coeur d'Alene, is well known for his large sculptures utilizing bronze, marble, and granite. Inspired by his home country of Spain and recent visits to Africa. Manel has exhibited in various countries and has completed commissions for public monuments in Spain, Italy, France, Brazil, and the United States.
Chris Bivins from Eatonville, Washington loves working with clay, rusty metal, wood, fabric, leather, sticks, stones and broken bones. He creates a variety of pieces that draw on a diverse range of inspirations, including ancient cultures, lowbrow art, tattoo design, found object art and the natural world.
Frank Boyden from Otis, Oregon possesses artistic practices that reflect his lifelong interests in the biological sciences. A diverse artist, he is well known for his ceramics, printmaking, and sculpture. Boyden received an MFA and BFA from Yale University School of Art. His work resides in over one hundred major museum and university collections around the world.
Lindsey Meyers Carroll from Helena, Montana is a contemporary artist working in magic realism through large-scale charcoal drawings. Her work seeks to imagine and give life to the hypothetical daydreams of animals prevalent in rural life. Lindsey received her BA in Fine Arts and Spanish Literature from the University of Montana.
Michael de Forest from Portland, Oregon began making furniture in the 1970s. In 2009, he traveled to Ghana and studied the art of design coffin making. He has utilized these skills to carve and craft wooden masks, one of which is six feet tall and will hang in the gallery for the show. Michael received his MFA in visual studies from the Minneapolis College of Art and Design. Michael is a member of the wood faculty at Oregon School of Art & Craft.
Sheila Evans from Spokane, Washington is best known for her pastels and oil paintings that reflect her passion for animal welfare and the environment. Recently, she has branched out into new medias and will debut her work in enamel during this show at The Art Spirit Gallery. Sheila holds a BFA from Gonzaga University.
Yuji Hiratsuka from Corvallis, Oregon specializes in intaglio and chine printmaking techniques and has won numerous international awards. He was born in Osaka, Japan and received a BS in Art Education from Tokyo Gakugei University, an MA in printmaking from New Mexico State University, and an MFA from Indiana University. Yugi is currently a professor of printmaking at Oregon State University. The Art Spirit Gallery began showing his work in 2004 after he was a visiting artist at Gonzaga University including a show at the Jundt Museum.
Shelle Lindholm from Kalispell, Montana paints with a unique process layering wax with a palette of vibrant acrylics. The artist describes her style as "A wild, quirky mix of primal and contemporary." Shelle received her BFA from Stephens College in Columbia, Missouri.
Laura Nuchols of Spokane Valley, Washington specializes in sgraffito, a technique in ceramic decoration in which the top layer of glaze is scratched with a design to reveal a different color underneath. Laura enjoys listening to classic English murder mysteries while she labors over her highly refined sgraffito images on ceramic tiles.
Richard Parrish from Bozeman, Montana is both artist and architect. His fascinating glass work is inspired by both the human-made environment and the natural landscape of the West. He holds a Master of Architecture degree from the Cranbrook Academy of Art in Bloomfield Hills, Michigan.
Valerie Seaberg from Jackson, Wyoming enjoys working in a variety of art forms, from sculpture, book and mask making, to environmental art. Over the years, hand building clay and weaving with natural materials have remained her most enduring passions.